Dr.Fone - Phone Manager (Android)
Features
Guide
Tech Specs
Download
Buy Now
Dr.Fone - Phone Manager (Android)
Your Smart Android Transfer and Managing Solution
Transfer files between Android and computer, including photos and more.
Transfer from iTunes to Android, and vice versa.
Manage your Android device on computer.
Fully compatible with Android 11 and Samsung S20.
Why Choose Dr.Fone - Phone Manager (Android)?
This Android file transfer makes it simple and fast to transfer between Android and other platforms like Windows computer, Mac, and iTunes. Just transfer photos, videos, music, contacts, messages, documents, etc. all at once or selectively. Most importantly, this tool can manage your Android with your PC, like adding and deleting media data.
Treasure Every Moment in Your Life
Photos represent the beautiful life moments which you cherish so much. But as time passes, photos are the largest factor that consumes Android storage. This Android transfer program just comes to your needs. It allows you to seamlessly transfer photos between Android and PC, manage and sort out Android photos on PC.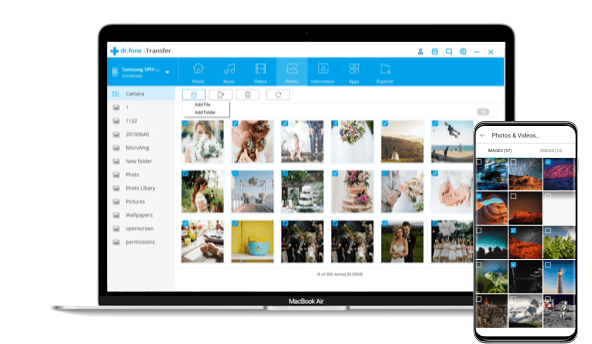 Transfer
Transfer pictures from computer to Android, or Android to computer.
Manage
Sort out photos in different albums. Add, rename, delete photo albums.
Delete
Delete unwanted Android photos in batches, or selectively on your PC.
Convert
Convert HEIC photos to JPG without any quality loss during Android photo transfer.
Seamless Entertainment with All Your Media Files
With computer, Android, iTunes in hand, you may be wondering how to enjoy all the media files seamlessly across these platforms. This Android transfer tool can transfer any media files between your Android device and other platforms like Windows, Mac, and iTunes.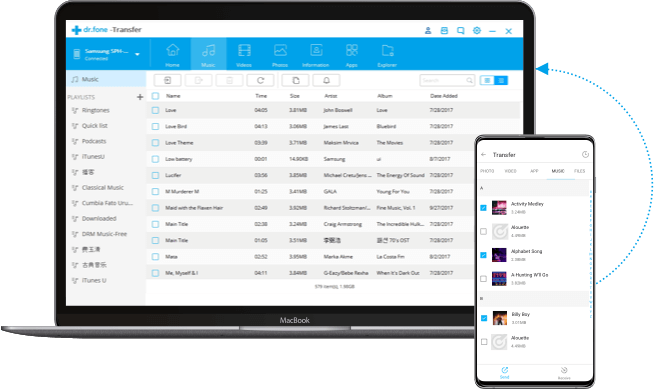 Transfer Media Files between Android and iTunes
This Android data transfer program exports media files from Android to iTunes, and imports from iTunes to Android.
Transfer Media Files between Android and computer
With this Android transfer tool, you can also transfer media files directly between Android and computer.
Transfer All Media File Types
All media files like music, movies, TV shows, podcast, audiobooks, playlists, etc. can be transferred.
Best Android File Transfer for PC/Mac
This software supports not only Android transfer for PC, but also Android transfer for Mac. Apart from media files, you can export data files like messages, contacts, documents, etc. from Android to PC/Mac, or the other way around.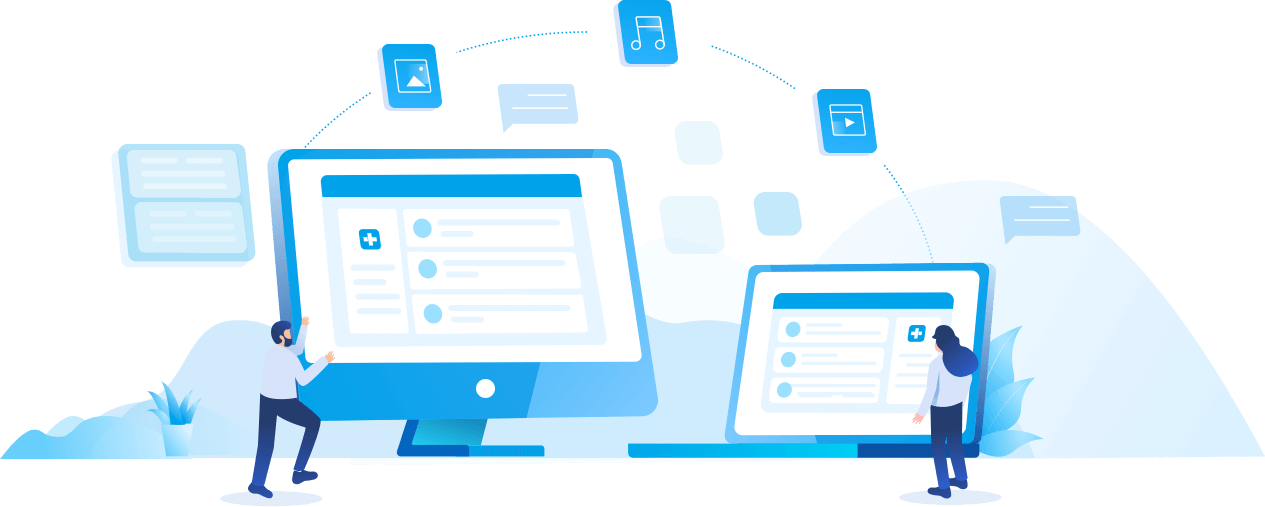 Loved by Over 50 Million Customers
Im a Mac user, but I hate to use iphone. My daily phone is a galaxy s9. Searching so long for a tool to sync files between galaxy and Mac, and drfone is just the one! lovin it...
By Arnold 2019.02
More Features for You
Manage Contacts/SMS
The Android transfer tool allows you to backup contacts and SMS from your Android device to a computer, import contacts from computer/Outlook to Android, as well as add, delete, edit, merge contacts.
Android File Explorer
With this phone transfer tool, you can throughly access your Android device under Disk Mode, bakcup directories from your Android device to a computer, and easily transfer and browse all files and folders on your Android.
Android App Management
The Android data transfer tool can backup your apps from Android to computer with one click, install and uninstall apps on your Android device in batch, and flexibly remove pre-installed apps or bloatware from your Android device.
Tech Specs
CPU
1GHz (32 bit or 64 bit)
RAM
256 MB or more of RAM (1024MB Recommended)
Hard Disk Space
200 MB and above free space
Android
Android 2.0 to the latest
Computer OS
Windows: Win 10/8.1/8/7/Vista/XP
Mac: 10.15 (macOS Catalina), 10.14 (macOS Mojave), Mac OS X 10.13 (High Sierra), 10.12(macOS Sierra), 10.11(El Capitan), 10.10 (Yosemite), 10.9 (Mavericks), or 10.8
Note: For 10.15 (macOS Catalina) and later, Dr.Fone - Phone Manager (Android) temporarily does not support transferring medial files from phone to Mac.
How to Transfer Android Files?
With the Android file transfer tool, it's just a 3-step process to transfer from Android to computer, or computer to Android. Your personal info is protected with advanced encryption during the transfer. Nobody but you can access what you've transferred.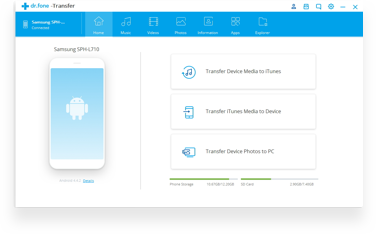 Step 1: Connect your Android device.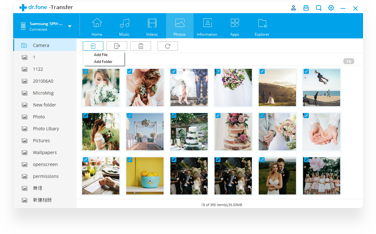 Step 2: Select files for transfer.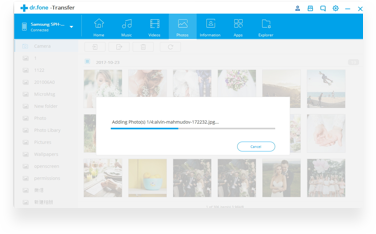 Step 3: Begin to transfer.
Android Data Transfer FAQs
How to sync an Android phone to a computer?
There are various ways to sync Android to your computer, like using a USB cable, Bluetooth, Wi-Fi direct, or even cloud storage. The most common method for Android and PC syncing is connecting Android to PC using a USB cable. Here is how:
Connect your Android to the computer.
After your Android is recognized, the computer lists several options to choose from like "Open device to view files" or "Import pictures and videos".
Let's say you want sync pictures from Android to PC. Choose the corresponding option and continue.
Then the computer begins to import all the pictures from your Android, you can select "Erase after importing" as required.
How can I connect my Android phone to my PC wirelessly?
Using a USB to connect Android to your PC may sometimes be inconvenient, or worse, you just need to connect Android to PC when your USB cable is not with you. In this case, you need to opt for wireless Android transfer with PC. Here is a simple way to do that:
Get Transmore app downloaded on your Android.
Open the Transmore app and browse all the file categories. Select a category like Video.
Select all the videos you wanted to transfer, and touch Send.
You now can see a 6-digit key displayed.
Open the browser on your computer and enter "web.drfone.me"
Click on Receive and enter the 6-digit key. Then all the videos will be transferred from the Android to your computer.
How do I transfer files from Android to Mac?
It's not surprising if people use Android phone and Mac. Actually, some high-end Android models have higher performance than iPhone and people prefer to use them with their Mac. But how to transfer files from Android to Mac? The program Android File Transfer is such a program for you. For its easier alternative, you can always choose Dr.Fone - Phone Manager (Android) for Android transfer for Mac.
Anyway, here are the steps use the program Android File Transfer:
Connect your Android to Mac with the USB cable.
Get Android File Transfer downloaded on your Mac, install and open it (this may take a while).
Navigate to the directories to find the files from your Mac.
Find the desired file or folder and drag it into a place on your Mac.
Note: In the Android File Transfer program, all the directories are not grouped by file type, and different Android devices may require different settings to work with the program.
How to share Android screen to PC?
Sometimes you may want to share a photo, video, or document to a PC without transferring it. Then you should find a way to share your Android screen to the computer. To do this, you need a special program named MirrorGo Android Recorder, which can share any Android screen to PC without any hassle. It also allows you to play Android games using your PC.
Our Customers Are Also Downloading
Dr.Fone - Recover (Android)
Rescue data from Android phones and tablets in 5 minutes.
Dr.Fone - Backup & Restore (Android)
Selectively backup your Android data on computer and restore it as required.
Dr.Fone - Unlock (Android)
Remove the locked screen from Android devices without losing data.