Dr.Fone - Phone Manager (iOS)
Features
Guide
Download
Buy Now
Dr.Fone - Phone Manager (iOS)
Your Smart iPhone Transfer and Managing Solution
Transfer contacts, SMS, photos, music, video on your iPhone and iPad.
Manage your data by exporting, adding, deleting, etc.
No need for iTunes to transfer between iPhone, iPad and computers.
Fully support iOS 14 and all iOS devices.
Why Choose Dr.Fone - Phone Manager (iOS)?
Dr.Fone makes iPhone transfer between iOS devices, Windows/Mac computer, iTunes effortless, and efficient. Now you can transfer photos, videos, music, contacts, SMS, documents, etc. one by one, or in bulk. Most importantly, you can get rid of iTunes completely. No need to install iTunes at all.
Treasure Every Moment in Your Life
Our smartphone has become our go-to source for clicking pictures and taking vidoes. As more and more photos adds up, it ends up eating up the iPhone storage. it's really convenient to have an easy-to-use iPhone transfer solution. Dr.Fone - Phone Manager (iOS) helps to manage and transfer iPhone photos, including Live Photos, Selfies, and Albums.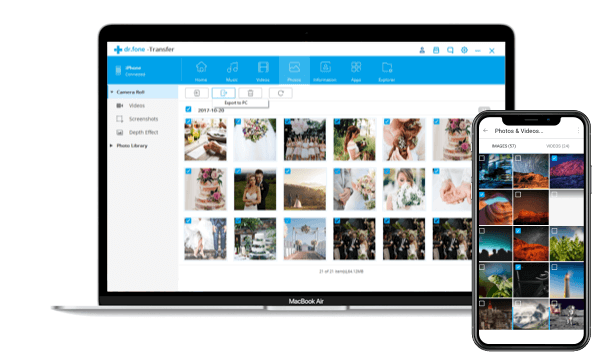 Transfer
Transfer photos between iPhones, iPads and computers with ease.
Manage
Add and delete photos on your iPhone, iPad, add photos to the album and more.
Delete
Delete one photo or photos in bulk easily. Preview every photo before deleting it.
Convert
Convert HEIC photos to JPG if the target device/PC doesn't support HEIC.
Seamless Entertainment with All Your Media Around
Dr.Fone - Phone Manager (iOS) breaks the iTunes restrictions and makes music transfer on the iPhone simple, like never before. Now, you can transfer music, ringtones, playlists, audiobooks, etc. between iOS devices and computers without any limitations. It also enables you to edit and manage your playlist without iTunes.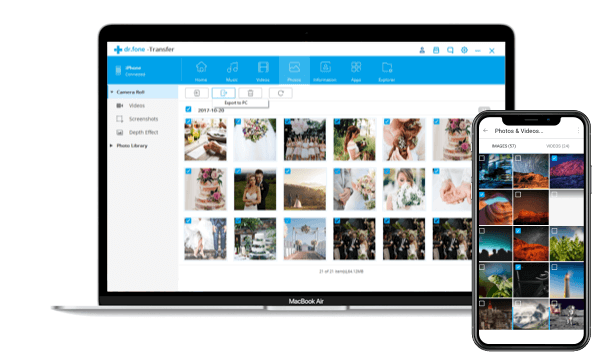 Transfer Media between iOS and iTunes
Sync songs between iPhone/iPad/iPod touch and iTunes. No limitations.
Transfer Media between iOS and computer
Transfer songs between Windows/Mac computer and iPhone/iPad/iPod touch.
Transfer All File Types
Music, Ringtones, Playlist, Audiobooks, Music Videos, Podcasts, iTunes U, TV Shows, and more.
Best Alternative to iTunes
iTunes is cumbersome. Dr.Fone - Phone Manager (iOS) liberates you from iTunes and helps you to manage files on your iPhone. Unlike any other iTunes alternatives, it doesn't need you to install iTunes on your computer at all.
Loved by Over 50 Million Customers
This program goes far beyond anything iTunes allows, as it is extremely easy to browse and copy files from my iPhone to the computer.
By Nick 2017.08
More Features to Expect
Manage Contacts/SMS
Transfer contacts & SMS between iPhone and computer in a safer and simpler way. Add, delete, edit, and merge your iPhone contacts in 1 click.
iPhone File Explorer
The powerful file explorer enables you get access to every corner of your iPhone storage. So you can browse all files and folders on it.
Make Ringtones
Intercept any part of your favorite song and turns it into the ringtone of your iPhone.
Rebuild iTunes Library
Sync the media files from iPhone/iPad/iPod touch to iTunes to rebuild your iTunes Library.
Convert media files
It helps to convert the media files to a compatible format when transferring to the target device.
App Management
Export and back up your apps in a batch. It also enables you to install and uninstall multiple apps with one click.
Tech Specs
CPU
1GHz (32 bit or 64 bit)
RAM
256 MB or more of RAM (1024MB Recommended)
Hard Disk Space
200 MB and above free space
iOS
iOS 14, iOS 13, iOS 12/12.3, iOS 11, iOS 10.3, iOS 10, iOS 9 and former
Computer OS
Windows: Win 10/8.1/8/7/Vista/XP
Mac: 10.15 (macOS Catalina), 10.14 (macOS Mojave), Mac OS X 10.13 (High Sierra), 10.12(macOS Sierra), 10.11(El Capitan), 10.10 (Yosemite), 10.9 (Mavericks), or 10.8
Note: For 10.15 (macOS Catalina) and later, it temporarily does not support transferring medial files from the phone to Mac.
iPhone Data Transfer FAQs
Can I AirDrop from iPhone to PC?
AirDrop is a very convenient file transfer solution on Apple devices. But there is no AirDrop version for Windows computer. But this does not mean we can't transfer files wirelessly between iPhone and Windows computer. Just like AirDrop, Transmore App uses Wifi-Direct to establish a wireless connection between devices and share data. With Transmore, we can transfer files between different devices wirelessly.
How do I get photos off my iPhone on Windows 10?
To transfer photos from iPhone to Windows 10 PC using Photo App, just follow the steps below.
Connect your iPhone to Windows 10 PC using an USB cable.
Launch the Photo App from the Start menu or Taskbar on Windows 10.
Click Import icon on the top-right corner of Photo App.
All photos on your iPhone will be selected by default. Click on the photos you don't want to import.
Then click Continue. The Photo App will start to get the photos off your iPhone on Windows 10.
How do I transfer photos from iPhone to PC using iTunes?
To transfer photos from iPhone to PC using iTunes, just follow the steps below.
Install the latest version of iTunes on your computer.
Launch Dr.Fone and connect your iPhone to computer.
Click on the Device icon on the left-top corner in iTunes.
On the leftside bar on iTunes, click Photos.
Check the box before Sync Photos. Then choose which photo album you want to sync.
Then click Apply to start to sync the photos from iPhone to PC using iTunes.
How can I transfer music to my iPhone without using iTunes?
To transfer music to iPhone without using iTunes, follow the step-by-step guide here.
Launch Dr.Fone on your computer and select Transfer.
Connect your iPhone to computer using a Lightening cable.
Click Transfer iTunes Media to Device to transfer music from iTunes library to iPhone.
To transfer music on local storage on computer, click Music tab on Transfer window.
Select the music file and click Export to iPhone to transfer them to your iPhone.
How do you import photos from iPhone to MacBook?
We can use the Photo App on Macbook to import photos from iPhone easily. To do that:
Connect your iPhone to Macbook and then open Photos(iPhoto) App on your computer.
Click the Import icon on the top.
Select the photos you'd like to import and click Import xx Selected.
Besides this, we can also use tools like AirDrop, Transmore and Dr.Fone - Phone Manager (iOS) to transfer photos from iPhone to Macbook.
Our Customers Are Also Downloading
Dr.Fone - Data Recovery (iOS)
Recover lost or deleted contacts, messages, photos, notes, etc. from iPhone, iPad and iPod touch.
Dr.Fone - Phone Backup (iOS)
Backup and restore any item on/to a device, and export what you want from the backup to your computer.
Dr.Fone - System Repair (iOS)
Fix with various iOS system issues like recovery mode, white Apple logo, black screen, looping on start, etc.